IMPORTANT:  THIS SITE WORKS BEST WITH GOOGLE CHROME.  Internet Explorer may not be a sufficient browser to use these feature.
Our courses cover about 9 weeks worth of material.  We offer a variety of courses mostly at the high school level, but we hope to offer courses in the future at the elementary and post-secondary levels as well.  Our courses have many wonderful features:
Variety of engaging activities
Easy to challenging tiered activities that build and reinforce skills
Awards badges to make it fun
Audio visual components
Cultural aspects
Heavy focus on verbs and vocabulary
Downloadable activities to practice without the computer
Building fluency and comprehension
Affordable for every budget
Especially effective for school 1-to-1 programs
Designed by real and experienced teachers who have actually taught in the classroom
Support
If you would like to try some of our Verb Ninja Content for free, click on "Free Samples" under the menu tab.  Also the following lessons are free to sample:
VERB NINJA can ease the burden on teachers and engage your students!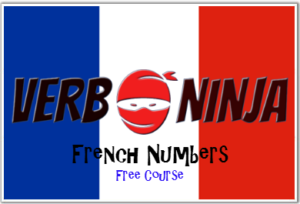 Informational Video about Some of our Features